Question:
Windows XP SP2 - Internet Explorer Pop-up Blocker Settings


Answer:
Windows XP Service Pack 2 (SP2) includes a pop-up blocker to help restrict unwanted pop-ups. By default this feature applies to all sites you visit, and may interfere with E-valuate-IT's automatic logout functionality.

If SP2 update is installed and you experience difficulties with your user account remaining locked after you exit E-valuate-IT, implementing these settings may assist:

1. Select "Internet Options..." from the "Tools" menu in Internet Explorer.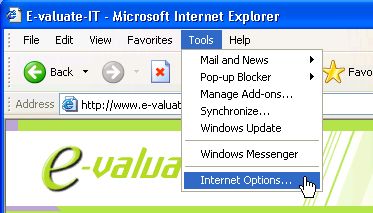 2. Select the "Privacy" tab at the top of the Internet Options window. Click the "Settings" button under Pop-up Blocker toward the bottom of this window (see below).




3. In the window that appears, type the following web address into the field marked "Address of Web site to allow":

www.e-valuate-it.com

Then click the Add button to the right of this field.




4. Click Close, then click OK to finish.